Want to utilize direct mail marketing to earn new customers and boost sales – but not sure how? Successful direct mail design involves much more than just colours and images on a page. In fact, the aesthetic design of a mail piece isn't even the half of it! At One To One Mailing, we use a direct mail design strategy called the 40/40/20 rule to create compelling and successful mail campaigns. By following this direct mail design rule, you can increase interactions and improve ROI for your campaign.
Ready to give direct mail a try? Let's take a closer look at the 40/40/20 direct mail design rule. Plus, keep reading for insider tips and tricks from our direct marketing experts.
The 40/40/20 Rule of Direct Mail Design
There are three basic components of direct mail advertising. These three components are essential to creating a captivating campaign.
Targeting – i.e. your audience
Offer – i.e. what you have to offer consumers (e.g. promotions)
Design – i.e. the creative execution
Now, this is where the 40/40/20 rule comes in. To develop a successful direct mail design, focus your attention and efforts in the following ways:
Targeting – 40%
Offer – 40%
Design – 20%
To help you get started, here are some tips for following the 40/40/20 rule.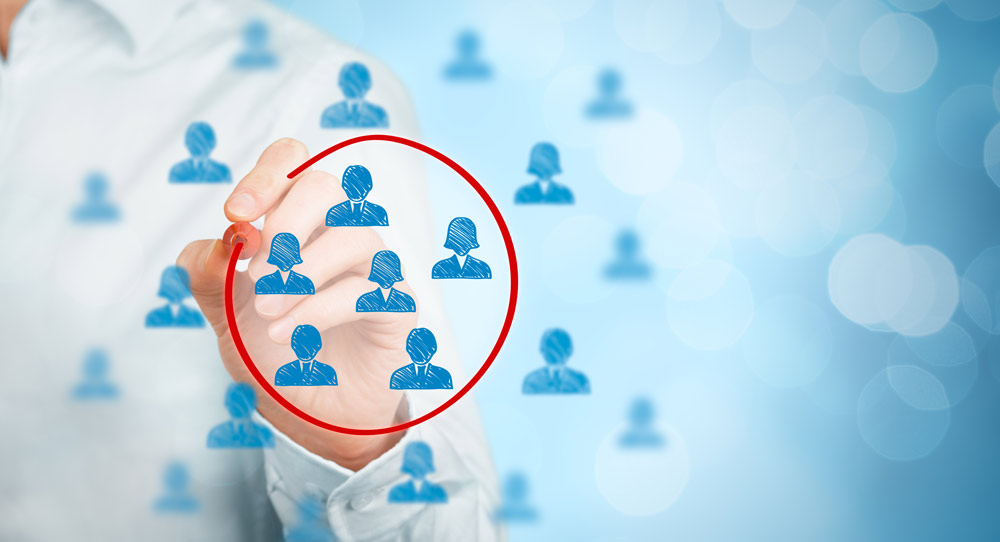 Targeting (40%)
The first step to creating a successful direct mail campaign is defining your target audience. To find the right audience, consider:
Demographics – who are the individuals that you want to target? For example, what is their age, gender, marital status, income, education level, etc.?
Geography – where do your ideal customers live or work. For example, do they live in a specific neighbourhood? Or perhaps a particular condo building?
Life stage and lifestyle – does your ideal audience have a family? Are they working or retired? How do they like to spend their free time?
Creating a consumer profile based on the factors above can help you target the right people, in the right places, at the right time.
Once you have a good idea of who your ideal audience is, implement your precise targeting details using One To One Mailing's PostNow online direct mail ordering tool. PostNow allows you to utilize various demographic, geographic and lifestyle filters to target the perfect audience.
Offer (40%)
After you've established a strong customer profile for targeting, you'll want to develop an enticing offer for your direct mail design. Including a high-value and relevant offer on your mail piece is crucial to receiving a response from your audience.
To create the perfect offer, ask yourself:
What action do I want consumers to take after receiving my mail piece? For example, do you want them to call your office, place an order online, or perhaps download your app?
Why should my target audience take action? In other words – what value does the offer provide consumers? If your target audience sees no value in taking action, it's highly unlikely that they will respond in the way that you want them to.
How can I reward customers for responding to my call-to-action? Offering a valuable reward will entice consumers to take action. Some of the most common and effective rewards used by marketers include:
Discounts and specials
Promise of exclusive information
Free gifts or samples
Promotional contests
Loyalty points
Once you've created a compelling offer, don't forget to pair it with a strong call-to-action (CTA). This CTA should be clear and concise, so the reader knows exactly what steps to take.
To help you brainstorm, here's a great example of an effective offer and call to action.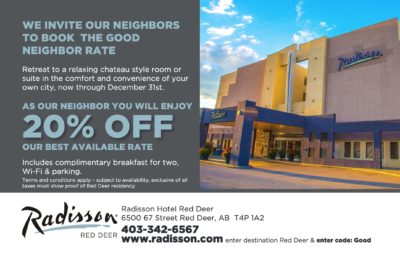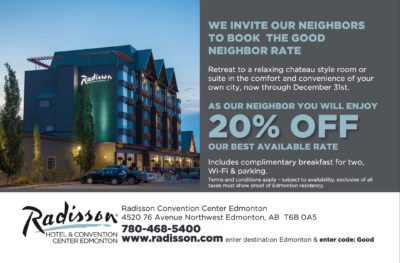 As you can see, this Radisson mail campaign includes a compelling offer. This offer (i.e. 20% off) is paired with a clear and concise call to action that is used to entice consumers to book a hotel room.
As part of this direct mail campaign, 12,000 postcards were mailed between two cities (Red Deer and Edmonton). The campaign resulted in 150 bookings for a total of $11,070 in revenue!
Design (20%)
Finally, with a clear target audience and an enticing offer in place, you can focus your attention on the look and feel of your direct mail piece.
The most important factors to focus on when designing direct mail include:
What will resonate with your customers – for instance, what images, colours and designs will attract and hold the attention of your ideal audience?
How your mail piece will stand out in the mailbox – consumers are consistently bombarded with flyers, postcards, bills and more. Therefore, it's vital that you focus on creating a direct mail design that will help you stand out.
Branding – it's important that your mail integrates well with your other marketing materials and that consumers can quickly and easily identify your brand when looking at the mail piece.
As you can imagine, design is an important factor when it comes to creating a successful and effective mail campaign. So, why is design only 20% of our magic direct mail design formula?
Well, it's simple really. A beautiful design can go far. However, if you aren't targeting the right people, or your offer is irrelevant, then it doesn't matter how pretty your mail piece looks – it won't get results. Thus, design is important but not as critical as establishing the right target audience and a compelling offer.
At this point, you're probably thinking – sounds great, but how do I actually implement this direct mail design strategy? To help you visualize what a good design looks like, let's take a look at an example from RBC.
Successful Direct Mail Design Example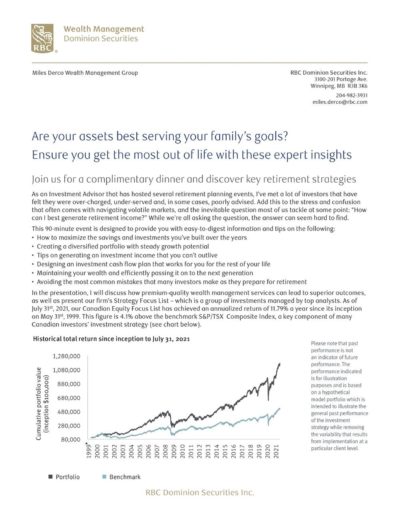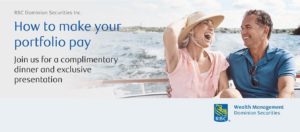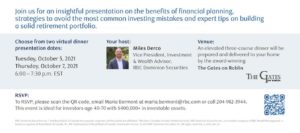 The direct mail design above is a great example of what to strive for when creating a mail campaign of your own. Here, you can see that RBC is using a simple design, with colours that reflect their brand, as well as imagery that will resonate with their target audience. RBC's mail piece is also elevated through the use of:
QR code – using QR codes on direct mail can boost interaction and assist with direct mail tracking.
Heavy paperweight – this tactile aspect provides an added sense of value and authority.
Customized indicia (i.e. the "postage stamp" marking in the top right corner of the direct mail piece) – RBC has included a photo of the event host in their indicia. This unique touch is used to establish a more personal connection with the audience.
Buck slip (i.e. the small paper insert) – this insert is included to highlight the offer and call to action.
If you take a closer look, RBC has also included personalized details (e.g. the recipient's name) to help improve open and response rates. According to Fundera, including a person's name on your mail piece can increase interactions by up to 135%!
With this example in mind, let's take a look at a few more direct mail design tips.
Direct Mail Design Tips to Take Your Campaign to the Next Level
Want to take your direct mail design to the next level? These pro tips and tricks will help you elevate your next campaign for optimal results.
Avoid clutter
Use simple yet bright and bold visuals
Integrate direct mail campaign tracking tools
Incorporate a QR code for improved interaction
Add a varnish to enhance the feel of your mail piece
Consider a heavier paperweight
Include buck slips or inserts that emphasize your marketing message
Customize your indicia
Create a sensory experience by using samples
The Importance of Engaging the Senses Through Direct Mail Design
Did you know – neuroscience research shows that activating your customers' senses will leave a lasting impression? In fact, if you can engage 3 or more senses through your direct mail design, you can increase your brand's impact by up to 70 PERCENT!
Here are some ideas to help you create a memorable experience that engages the senses:
Include a free sample inside the envelope.
Use eye-catching printing techniques. For example, embossing, metallic ink, spot gloss, holographic scratch tabs, etc.
Include sticky notes on your mail piece.
Use stickers on postcards (e.g. glue dot).
Send mailers that pop up into 3d objects.
Send mailers in bottles.
Print on textured paper.
Infuse your direct mail with a scent.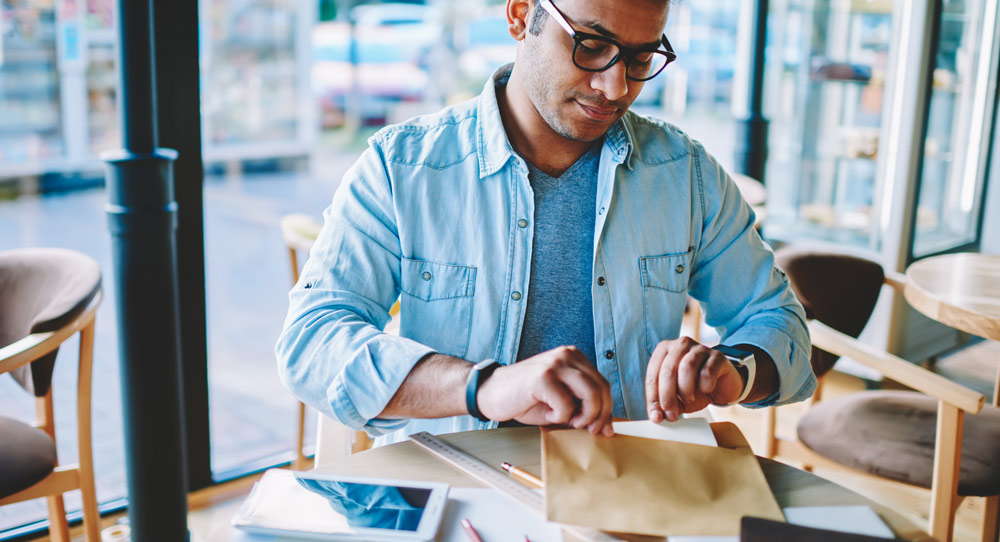 Create an Effective Direct Mail Design with the Help of PostNow
Have an idea in mind for your next direct mail campaign? One To One Mailing's new PostNow tool can help!
PostNow is the first tool of its kind in Canada. With exclusive access to One To One Mailing's advanced Postal Code Targeting API, you'll be able to review target locations and receive pricing estimates at the touch of a button.
Direct mail design doesn't get any easier than this! Simply, narrow down your audience using PostNow's precise targeting tools. Then, create your own offer and design (from scratch or using one of PostNow's many free templates) or work with our direct mail specialists and designers to create the ultimate direct mail piece.
Visit PostNow.ca to create the perfect campaign in a matter of minutes!